Chelsea Textiles Annual Sale 2021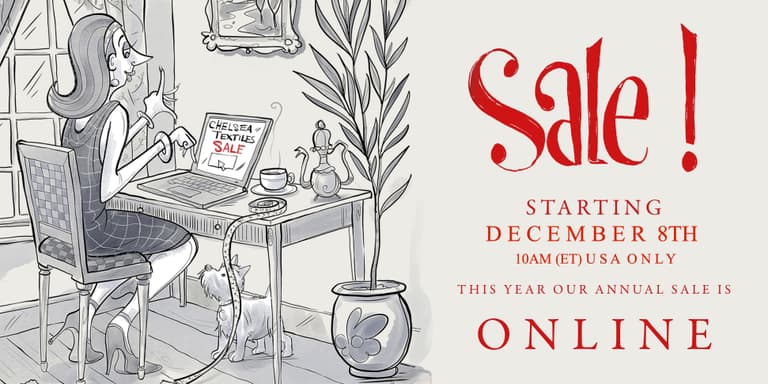 For the second time, the Chelsea Textiles Annual Sale is online
- USA only -
All your favourite sale goods, available to buy from the comfort of your own home. *While stocks last
Chelsea Textiles is thrilled to announce that this year's annual sale will still go ahead and be held online on our website, launching at 10am (ET) on Wednesday, December 8th.
The annual sale is a highly anticipated event each year and we expect the website to be very busy when it opens at 10am on Wednesday morning ... don't miss out - put a reminder in your calendars!
The sale will feature a selection of exquisite hand embroidered fabrics, bedcovers and cushions as well as hand loomed woven fabrics, end-of-line trims and delightful lavender bags at temptingly low prices!
In addition to our hand-made and hand-painted furniture, we will also be featuring selected one of a kind development samples.
Fresh sale stock will be added throughout the sale, so do keep checking back for new sale items.
Happy Hunting!